From June 26th to 28th, health experts are meeting up in MIHealth Forum, the benchmark event for clinical innovation and health management, where knowledge and experiences are shared towards the greater efficiency of the health system
International experts will be talking about new organisational and technological solutions that help improve healthcare quality and management.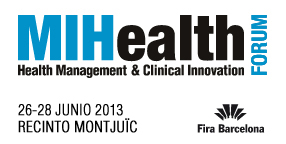 MIHealth is aimed at all players in the sector, from doctors and nurses to representatives of the administration and health centre managers.
In addition to the exhibition area, the event includes a strong congress programme, in which leading international experts are participating, such as Charles Auffray, President and Founding Director, European Institute for Systems Biology and Medicine; Peter Weinstock, Director, Simulator Programme, Boston Children's Hospital; and Pedro L. Alonso, Director of the Barcelona Institute for Global Health; among others.
This year sees the creation of "Close Connections", small group sessions allowing visitors to interact with members of the International Scientific Advisory Board, who will share their knowledge on innovation and healthcare management.
MIHealth will tackle the main challenges our health systems are facing and how they can be addressed in a holistic manner through the new technologies and innovative management tools available and learning from successful experiences worldwide. To achieve this, the programme is structured in three tracks: Innovation, Technology and Organization. For more information, read the MIHealth complete programme
If you travel on business to MIHealth Forum, don't forget search for accommodation for MIHealth Forum. Barcelona has a wide range of cheap hotels, cheap hostels and apartments to spend the nights you need at a good price.
Licenciada en Periodismo y enamorada de Barcelona desde 1986. Disfruto escribiendo posts y haciendo fotos de mi ciudad natal para BCN City Hotels, tarea que combino con la comunicación y el marketing online freelance y me mantienen siempre conectada y en continuo aprendizaje.